Samoa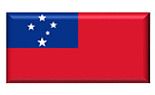 Location
in the South Pacific Ocean
Economy
The economy is dependent on agriculture and fishing.
Language
English and local language
Legal System
Common law
Samoa Company
Type
International Business Company (IBC)
Name
Name ends with the abbreviation "Ltd, Corp, Inc, SA, NV or GmbH".
Capital
No Min. requirement.; Stand Capital US$1,000,000
Share
No Restriction on the bearer shares issued.
Share Index
Yes
Registered Agent
Yes
Registered Address
Yes
Public Disclosure
No
Min. Shareholder
At least one
Min. Director
At least one
Disclosure of Shareholder
 No
Disclosure of Director
 No
Trading restriction
May not trade with residents or hold the property in Samoa. 
Taxation
None
Financial Statement
Yes
Tax Returns
 No
Account Filing
 No
Audit Report
 No
Accounting
Yes
Incorporation Cost
USD900
Annual Fee
USD850

No tax treaty been signed.