Netherlands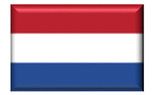 Location
European Country,close to Germany and Belgium
Economy
One of the richest countries in the world; One of the best countries to incorporate a holding company in EU.
Language
Dutch,German,English
Legal System
Civil Law
Dutch Company
Type
limited liability company (B.V.)
Name
Private limited company-Name with "Besloten Vennootschap (B.V.)
Public limited company -Name with "Naamloze Vennootschap(N.V.)
Capital
Min. Requirement €1 for B.V. ; €45,000 for N.V.
Share
No Requirement for B.V. ; par value €1 for N.V.
Share Index
No
Registered Agent
No
Registered Address
Yes
Public Disclosure
Yes
Min. Shareholder
at least one
Min. Director
at least one
Disclosure of Shareholders
No for B.V.
Disclosure of Director
Yes
Trading Restriction
No
Taxation
Tax rate 20%-25% for Income
Financial Statement
Yes
Tax Returns
Yes
Account Filing
Yes
Audit Report
Yes
Accounting
Yes
Incorporation Cost
€ 5,100
Management Fee
€ 5,000
Netherlands has signed the Tax Treaties with more than 95 countries in the world.